Things to see and do
Hyderabad is a city of alluring contradictions, where on one side, century old monuments narrate the story of noble emperors and on the other, a futuristic techno township thunders with ancient lanes to meet large vehicle-choked roads.
Char Minar
The landmark of Hyderabad,often referred as "The Arc de triumph of East".Char Minar was built in 1591 by Muhammed Quil Qutab Shah to commemorate the end of plague in the city.
Mecca Masjid
Located adjacent to the Charminar, it is rated among the largest mosques of the world
Salar Jang Museum
The grand museum houses an extraordinary private collection of Mir Yusaf Ali Khan,a great connoisseur of art.
Birla Mandir Temple
The marvelous temple built in white marble is perched over a hill overlooking the south end of Hussain Sagar.
Golconda Fort & Tombs of Qutab Shahi Kings
It is one of the most magnificent fort complexes in the country.
Medak
Located 96 kms north of Hyderabad.The town is well known for its magnificent Cathedral and Fort.
Puttaparti
Pilgrim center and abode of Bhagwan Shri Satya Sai Baba,millions of devotees from all over the world throng to Prashanti Nilayam at Puttaparti to seek spiritual solace.
Tirupati
Major Hindu pilgrim center.
Horsley Hills
A charming hill station at an altitude of 1,265 m., the slope are studded with groves of teak,red sandalwood,eucalyptus,gulmohar etc.which present a pleasing sight.
Vijayawada
Vijayawada or the "City of Victory" as it literally translates is called so as it was here or so it is believed that Arjuna, the Pandava Prince was rewarded for his penance, which he did on Indrakiladri Hill. Today, with excellent communications, perhaps the best in the South where railways are concerned, Vijayawada is looking forward to an exciting future. A predominantly business city of the Coastal Andhra, Vijayawada on the banks of the holy river Krishna attracts many piligrims as well for its temple dedicated to Durga.
The city is also a base for visiting the Buddhist excavations at Amaravati, which is less than 70 kms, away. Also accessible from Vijayawada are the towns of Kuchipudi, Mangalagiri and Kondapalli which are famous for dance, temples and handicrafts respectively. So altogether Vijayawada presents a colorful and varied picture and can be termed as a business cum pilgrim cum tourist center.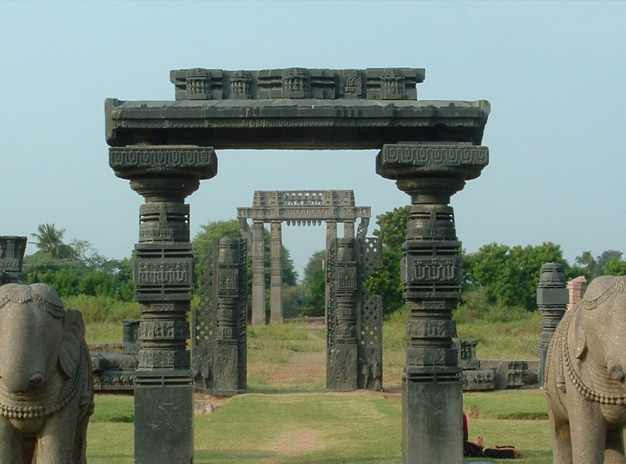 Warangal
Warangal was the ancient capital of the Kakatiya rulers. It was here that the fort was constructed by King Ganapathi in 1199 A.D and completed by Rudramadevi in the year 1261. The thousand pillared temple with its star shaped shrines dedicated to Shiva, Vishnu and Surya, the famous Ramappa temple & lake, the Pakhal lake are worth visiting. It is also known for the Thousand Pillar Temple. A fine specimen of Kakatiya architecture and sculpture, the Thousand Pillar temple as the name implies has many pillars, all efficiently carved. The temple is built in Chalukyan Style. The Nandi here has a beautiful finishing.