The smile of Murugan casts a silent spell over Tamil Nadu....a land whose fabled coast attracted a thousand adventurers / looters over centuries.... a land still visited by spawning turtles and a million travellers....each one enchanted by this ancient land.
Beat the big city weekday blues with fun-filled trips to amusement parks and beach resorts, temple tours and nature trails, shopping sprees and movie breaks with your favorite people.
Things to see and do
Honeymooners and couples from all over the world come to Tamilnadu to ignite their passion. Naturally!
Sriperumbudur
About an hour's easy drive from Chennai en-route to Kanchipuram,Sriperumbudur is the birth place of Sri Ramanuja,the 12 th century Vaishnavite saint.An idol of Sri Ramanuja has been installed in the 500-year old Sri Adhikesava Perumal Temple,which has a shrine dedicated to him.
Crocodile Bank
Then we proceed to Crocodile Bank,run by Chennai's noted wildlife conservationst,Romules Whitaker,Crocodile Bank is a captive breeding center. Here a variety of Indian and African Alligators and Crocodile species can be viewed in open pits
Snake Venon Extraction Centre
A visit to the snake venon extraction center is quite a fascinating experience.
Day 2
Chennai-Mahabalipuram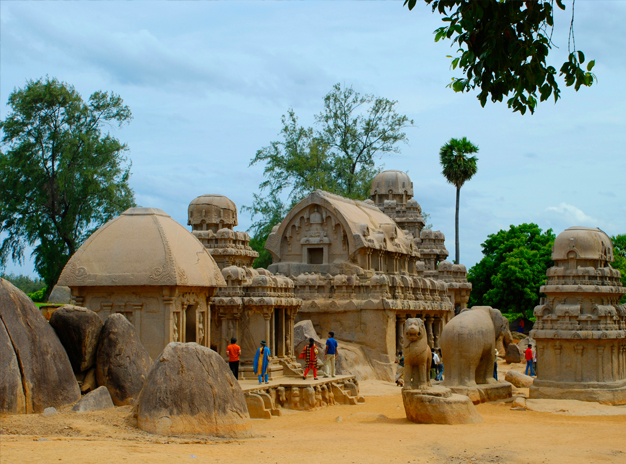 In the intense heat of Tamilnadu,a dusty haze hangs like a pall over the temple town of Mahabalipuram.But the good news is that, as in most parts of coastal Tamilnadu, pleasant sea breeze sets in late afternoons, making even May evenings bearable.
Mahabalipuram itself,or Mammallapuram as it was originally called,is an ancient seaport named after Mammala or Narasimha Varman I,the Pallava ruler who set up his capital here and established a center of sculpture and art in the 7 th century AD Come down the hi-tech East Coast Road-on your left are unforgettable glimpses of surf breaking on endless coastline,interspersed with stretches of casuarinas groves and all along the road food courts, amusment park and the art village.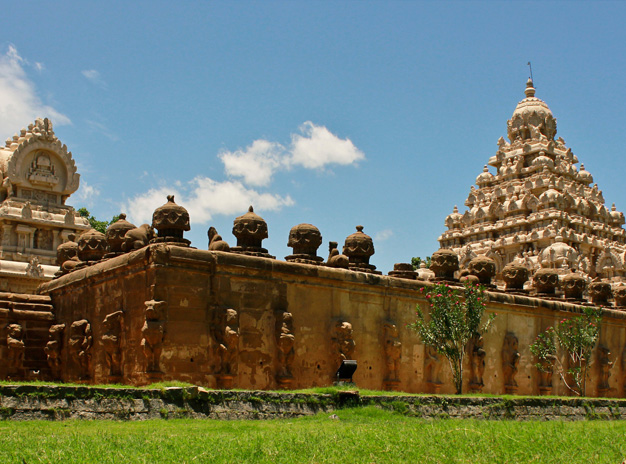 Known as the city of a thousand temples,its skyline is dominated by the Gopuram's of ancient shrines,such as Ekambareswarar Temple,Kamakshi Amman Temple and Varadaraja Perumal Temple.The exquisite carvings of these temples have inspired designs on Kanchipuram saris down the ages.A visit to a weaving center should be a must on your agenda.
Visit also the Shakuntala Jaganathan Museum of Folk Art,on Lingappan street close to Ekambareswarar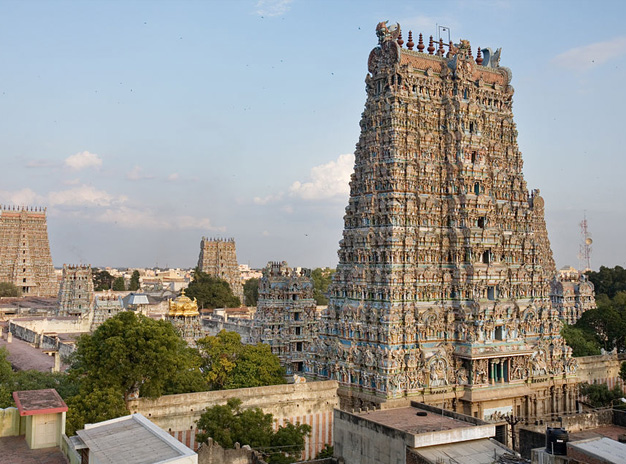 This ancient city set on the banks of river Vaigai with an antiquity of over 2500 years is often referred as the "Athens of the East".It is considered to be the cradle of Tamil culture and literature.
The magnificent twin temples Sri Meenakshi Sundareswarar Temple has become synonymous with Madurai.Other main attractions of Madurai are Ayiramkal Mandapam,Golden Lotus Tank,Vasantha Mandapam and Mariamman Teppakulam.
Day 5
Madurai - Karaikudi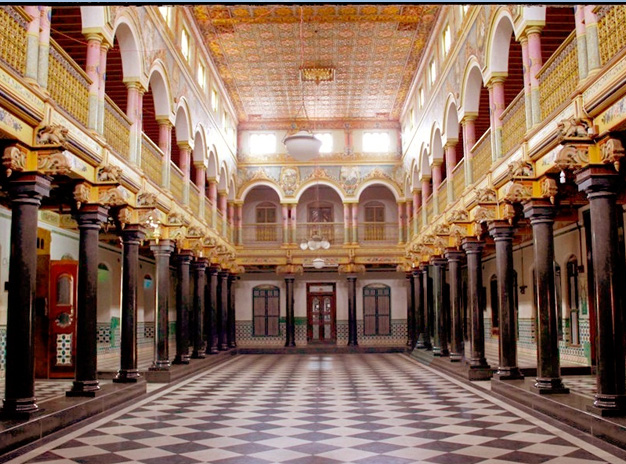 Karaikudi is the biggest city in Chettinad,a region best known to the outside world for its distinctive cuisine. What is less well known is that this small area, comprising about 72 villages, was the setting for a fascinating period of Modern Tamil history. The Chettiar community of traders,part of this region since the Pallava Dynasty ruled here between the 4th and 9th centuries AD,amassed huge wealth which was transferred back to villages in Chettinad where their increasing social status and power was manifested in sumptuous possessions ranging from diamonds to brass to pewter and,most visibly,in their grand mansions.Now,just the empty but impressive mansions remain,with one or two old members rattling around, keeping house with memories, photographs and bats for company.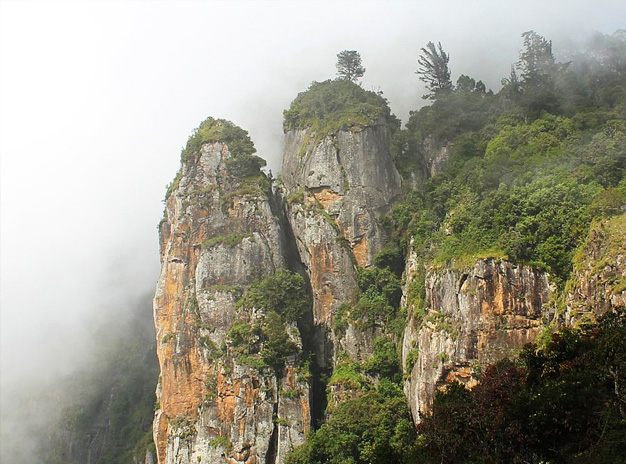 It's ideal if you have your own vehicle.If you have the luxury of time,walking unfolds the beauty of Kodai at a more leisurely pace.
Things to see and do
No sight seeing tour of Kodai can commence without the customary amble down Coaker's Walk. The road meanders past Green Valley View Point and winds 7 km to Kodai's most popular attraction, Pillar Rocks-a 400 ft high vertical column of three rocks. Kodai's most popular water fall is Silver Cascade,7 km outside town, formed by the backwaters of Kodai Lake. Also Check out Bambar Glen, Fairly Falls and Bear Shola Falls.
Day 11
Infinity (From Mudumalai)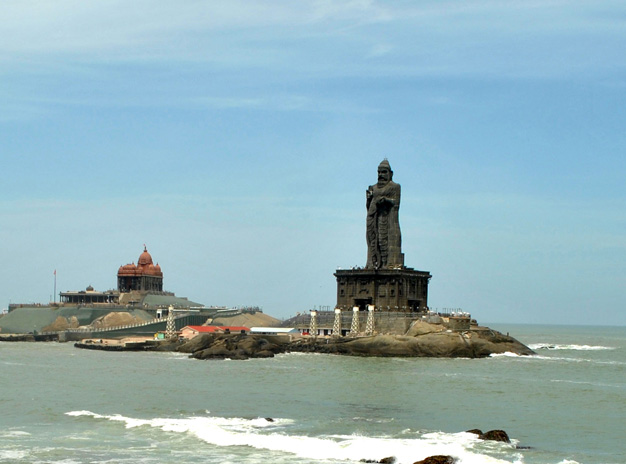 From this point,you can enter either Kerala or Karnataka..
Kanyakumari Trip From Kerala
Captivating Kanyakumari, the southern-most end of Tamil Nadu and the land end of India is one of the most popular tourist spots of the country.The major attractions of Kanyakumari are:
Kumariamman Temple
Gandhi Memorial
Vivekanada Rock Memorial and
Thiruvalluvar Statue.